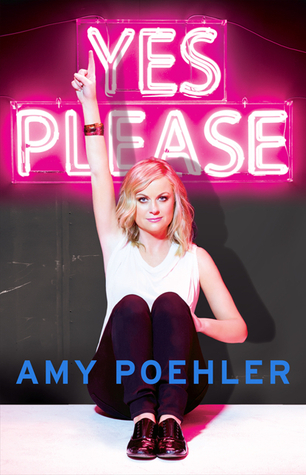 Yes Please was my first read book in 2015. I don't know why I picked it, I guess I just needed a break from fantasy and fiction. This book was recommended by some people on Booktube and I decided to give it a try. I chose the audio book read by the author. It was a good choice as Amy Poehler is a comedy actress and she certainly knows how to work her voice to her advantage. Very pleasant.
This book is a collection of essays about life – fame, work, having babies, family and many other things. It is kind of a memoir but without a straight time line. It is full of humour and witty expressions, so if you are tired of depressing and heavy literature, this book might be just what the doctor ordered. I love the style of writing and most of the topics. Some essays were a bit boring for me, but they might be spot on for someone else. I particularly loved the chapter about pregnancy – a very spot-on topic for my age group when everybody starts having babies. I like the honesty and openness in this book – not all people are able to laugh at themselves and others without offending someone. This book has some wisdom and good advice. It is not the you-should-do-as-I-tell-you kind of advice, it is more like suggestions based on personal mistakes, embarrassment and experience. It touches some heavy subjects like disability and divorce, but it also talks about self-confidence and success.
I was not particularly familiar with Amy Poehler and had no clue who she is, but now I want to watch some of the old Saturday Night Live shows to see the scenes she is talking about. I am not a fan of autobiographies, but this one made me feel like meeting a good friend over a pint (no sober person would share such intimate details over a cuppa). Even though I can't say it is the best book I read in a long time, I did enjoy it and would recommend it to other people. It is a pleasant easy read and could make someone's day better. I rate it by 6/7 out of 10, I can't really decide about the grade because I did not feel the connection with some chapters, but others I found very interesting. This could become a nice present for a person in a time of a mild crisis – seeing that other people can have a laugh at their problems might do some good.