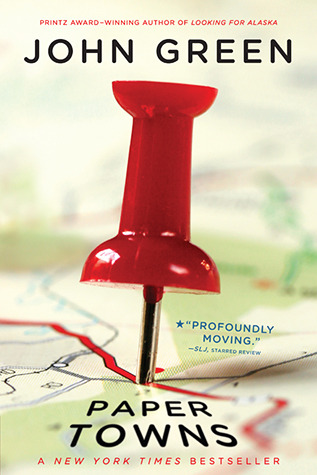 I went through Paper Towns in one gulp, and I think that probably John Green is not really my author. I absolutely understand, why he is so popular and I enjoy his YouTube channels, but I can't relate that much to his literary work, even though it is quite good. I have read my fair share of teen literature and I find this book to be quite mediocre in comparison.
The story evolves around Margo – a mysterious girl, who used to be friends with Quentin (protagonists) when they were kids. They have an exciting overnight adventure, and the next day Margo disappears. Quentin starts looking for clues and gets two of his best friends involved in the search. Parallel to the search the school prom happens and guys graduate. I won't spoil the story by telling whether  they manage to decrypt Margo's clues and find her, but the the way of finding the trail of clues and testing their theories takes the most part of the book. It's kind of like Enid Blyton for teenagers.
The style and language are sufficient for the target audience. Some of the jokes are funny but mostly the humour is quite dark and bitter (quite suitable for teenagers and young adults, who are most likely to read this). If you have ever seen John Green on YouTube, you will notice that he actually talks that way all the time. Basically, this book is about troubled teens and their minor everyday problems. I can't say that I found any of the characters grabbing or well developed. Most of them lacked character and had very little distinguishing traits. Margo is the most interesting person in the story, but even she has more of a mask than real character. To be honest, I kept seeing similarities between Margo and Kyra from The Astonishing Adventures of Fanboy and Goth Girl by Barry Lyga (although Greens version was not as dark and depressing).
I didn't find this book particularly exciting but it was an OK fast read. I think I might bee to old to read John Green, but I would recommend this book to some of my friends who don't like to indulge in reading complicated plots. Overall I rate this book by 6 out of 10, I was honestly expecting something more from this book. As some of you might already know, work on the movie has already begun and it should come out next year. John Green is involved in the process. I hope that it will be as decent as The Fault in Our Stars interpretation. We'll see.