Soulless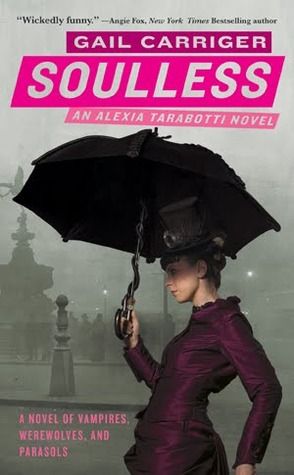 by Gail Carriger, book 1 in the Parasol Protectorate series, pleasantly surprised me. I must admit, I didn't have great expectations at first. I read the graphic novels based on the Parasol Protectorate series and found them delightful, nevertheless, I didn't hope to get much out of the full novel. I am glad that I did read it after all. It provided a more in-depth insight of this story and world setting, and was an easy and very enjoyable read. The language is clear but has a twist of the 19th century lexicon. It is a Victorian steam-punk supernatural novel with strong characters and interesting story line; some eroticism is present too.
Victorian London, werewolves and vampires are living among mortals with a set of strict rules and laws. Main protagonist, Alexia, is a very strong female character. She has inherited facial features, curves and tanned skin from her father (he was Italian), and she is a "soulless" – which means that she is something opposite to the supernaturals. Alexia is a spinster and gets herself into a lot of trouble. She is not  a typical lady in distress and can take care of herself, besides, she is very intelligent and well read. Despite her flaws, I find her charming. Not many female characters in books are given a full freedom of thought and don't give  a damn about other people's opinions. She is a very interesting character.
The story is quite grabbing. This is book one in the series, in which something strange is going on – a stray vampire attacks Alexia, despite her being a soulless,  and supernatural creatures start disappearing . Alexia gets involved in this mess and helps Lord Maccon, an alpha werewolf,  investigate this case.
I like that this book has very interesting secondary characters like Lord Akeldama, Ivy Hisselpenny, Floote, and Professor Randolph Lyall. Each of these characters has something special about them, and I highly value this in books. I like the steam-punk elements and erotic scenes – they are vivid but not vulgar, mainly because of the word choice describing these spicy moments. Not a single one of the characters is completely flawless and some even less than others. The setting is interesting because the mortals live among supernaturals. The system of political influence of supernaturals is very significant.  I have been reading a lot of novels with some degree of politics in them, but this seems to be one of the best systems so far – Queen Victoria is the ruler and she has a shadow council; supernatural beings also have to obey laws, otherwise they will meet serious consequences as any mortal would. Packs and hives have inner politics of their own but keep them secret. Plausible enough.
Here is some extra about the author ant the series:
And you should check out Gail Carriger's website.
I like the plot, characters, style and language of this book. I would recommend it to anyone who likes this genre. It is a relatively fast read, pace accelerates very smoothly. I genuinely like this book and that's why I rate it by 9 out of 10. I will definitely read other books in the series. If you are too lazy to read the whole novel, read the graphic novel.